NAICJA Meeting (October 18-20, 2016, California)
National American Indian Court Judges Association Meeting – October 18 through October 20, 2016, at Morongo Resort & Casino. The meeting featured three events involving the Indigenous Peacemaking Initiative:
IPI Advisory Committee Meeting (In-Person), October 18 (photo after the meeting) Pictured are (seated, l-r): David Raasch (Stockbridge Munsee), Natasha Gourd (Spirit Lake Dakota), Cheryl Demmert Fairbanks (Tlingit/Tsimpsian), Robert Yazzie (Dine); (standing, l-r): Laurie Vilas (White Earth Nation), Polly Hyslop (Upper Tanana Dineh) Brett Lee Shelton (Oglala Lakota), Michael Petosky (Little Traverse Odawa), Monica Sampson, Paralegal (Colville/Yakama)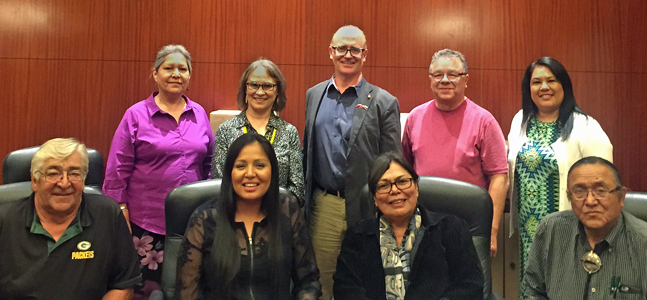 Plenary Panel Presentation, "Indigenous Peacemaking Initiative-Native Peace Alliance: Traditional Dispute Resolution is Naturally Suited to Uphold Indigenous Rights" featuring Natasha Gourd, David Raasch, Brett Lee Shelton, Shawn Watts, and Robert Yazzie, October 19 (photo below).
Meet the Peacemakers Reception-Mixer, October 19, had a good turnout of NAICJA conference attendees.