Annual Cyber-conference on Dispute Resolution (April 12, 2017)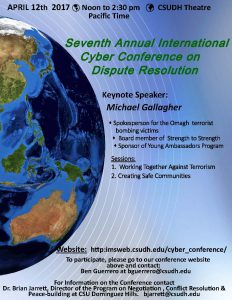 Wednesday, April 12th, 2017 | 12pm-2:30pm Pacific
A Global Conversation on the State & Practice of Dispute Resolution
The online conference will have speakers who are practitioners, researchers, and community members, as well as students and teachers.  There will be a hearty town-hall style discussion including contributions from Indigenous knowledge, as well restorative justice, therapeutic jurisprudence, dispute-systems design, law enforcement, community dialogue.
Noon (Pacific) – Welcome and Opening Ceremony
Opening Peace Ritual by Elder and Healer Jimi Castillo (Tongva Nation)
Brian Polkinghorn (Bosserman Center for Conflict Resolution, MD) –  remarks
12:15 – Keynote Speaker Michael Gallagher, Northern Ireland, Spokesman for the Omagh 
Bombing Victims and their Families.  Strength to Strength Organization and Young Ambassador Program.
12:45 – Working Together to Reduce Terrorism
Facilitated by Brian Jarrett (Director, NCRP- CSUDH) and Reverend Brown (President, Compton Historical Society)
1:30 – Building Peaceful, Safe Communities and Improving Police-Community Relations 
Facilitated by Polly Hyslop (U Alaska, Fairbanks), Brett Sheldon (Staff Attorney, Native American Rights Fund)
2:25 – Concluding Comments 
2:30 pm – Conference Ends.  (Each local audience is encouraged to continue its own wrap-up conversation following the internationally networked discussion).
Please encourage your students, friends, and colleagues to attend this interactive event.  We are committed to providing a discussion that is truly global in reach.  Come join colleagues and practitioners from around the world and learn what positive steps they are taking in their respective communities.
Archived conference materials:
5th Annual International Cyber-Conference on Dispute Resolution (2015)
A town-hall style discussion with practitioners, teachers, students, community members from around the globe.  Keynote Speaker is The Honorable Raf Gangat, former South African Ambassador to United Arab Emirates, Former Consul General in Pakistan, and Former South African Ambassador to The Palestinian Territories. Three consecutive sessions.
1. Therapeutic Jurisprudence and Inter-Cultural Conflict (facilitated by Mike Jones, Arizona Summit Law School and David Wexler, University of Puerto Rico School of Law, 40 min)
2. The Causes and Consequences of Inter-Cultural Conflict and the Value of Restorative Practices (facilitated by Bruce Barnes, Matsunaga Institute of Peace and Conflict Resolution, University of Hawaii, 40 min)
3. Circle Peace-Making, Indigenous Knowledge, and Dispute Resolution (co-facilitated by Brett Shelton, Oglala Sioux, Native American Rights Fund, Boulder, Colorado and Polly Hylsop, Athabascan Dineh, University of Alaska Fairbanks, 40 min)
4th Annual Inter-University ADR Cyber-Symposium on Dispute Resolution (April 23, 2014)
The University of Alaska Fairbanks Justice Department sponsored the fourth annual Inter-University ADR Cyber-Symposium . It focused on four themes: Integrating Different Approaches to Mediation; New Developments and Applications in Therapeutic Justice; Circle Peace-Making and Indigenous Knowledge; and New Applications in Restorative Justice.
1st Annual International Cyber-Conference on Dispute Resolution (2011)