NEWS: PEACEMAKING COLLOQUIUM REGISTRATION NOW OPEN
Please join us for the Peacemaking Colloquium 2020 – REGISTER FOR PEACEMAKING COLLOQUIUM.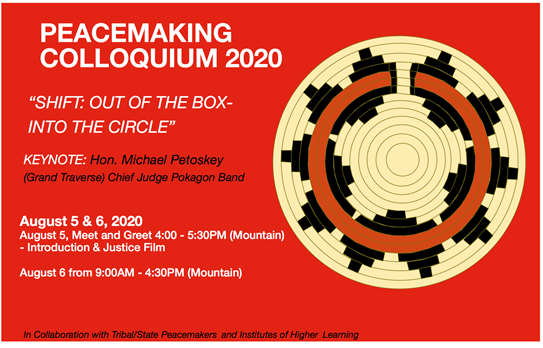 PURPOSE:
Peacemaking is an indigenous circle process based on tribal values and customary law providing a basis for helping resolve conflicts and disputes. Many Colloquiums have been held throughout the nation which involved peacemakers, scholars, tribal communities, and law students. Colloquium  2020 will be national and international and will highlight Tribal/Indigenous/State dispute resolution models. Presenters will include experts and wisdom keepers who will share their indigenous knowledge in a contemporary law context. We hope you will join us for this most important subject as we move toward racial justice and equity during this COVID-19 pandemic.